How does acupuncture help pregnant women?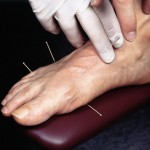 The old medical practice known as acupuncture originated in China over 2000 years ago. It is currently used all over the world by therapists who treat various diseases and relieve pain. The main idea behind acupuncture is that the insertion of needles in certain points of the patient's body could release pain and establish a proper energy balance. According to most professionals, this is one of the safest techniques, especially if performed by a professional with great experience. Vomiting and nausea are some of the most common symptoms that could be treated by acupuncture, but there are plenty of other benefits as well.
Although acupuncture treatment is conventionally used for pain relief, specialists have also turned it in a method used to increase the comfort during pregnancy and after birth. There are centers in almost every country where any woman could benefit from acupuncture to relieve various moods and symptoms that occur during pregnancy and childbirth. Acupuncture can also treat vomiting caused by pregnancy, as well as pain during this stage.
A study recently shows that acupuncture is effective for nausea and vomiting for pregnant women. The research was performed on 593 women pregnant in 14 weeks. The results reported show a significant improvement in terms of reducing nausea and vomiting in those who have participated in multiple sessions of acupuncture. According to researchers, acupuncture sessions that followed during pregnancy can reduce fatigue, headaches, depression, anxiety, back and joint pain, stress, heartburn and the risk of hemorrhoids. If used during labor, acupuncture reduces pain intensity and preserves energy in the body. In addition to this, in case the patient needs it acupuncture can stimulate contractions without the need of drug administration.
In terms of the benefits after birth, acupuncture treatment can help women even after childbirth by treating mastitis, insufficient lactation or uterine bleeding. The benefits of acupuncture are not only pain relief and treating other symptoms caused by pregnancy. By using this method other treatments, including those with painkillers or anesthetics, could be treated as well.
The duration of the entire treatment, including the number of sessions and the frequency of treatment varies depending on the case. Some symptoms may disappear after the first session, while more severe diseases may require several sessions. The session cost is also dependable on the therapists and the place it is performed in. Specialists compare pain with that resulting from a mosquito pinch, with some chances of a more intense pain in rare cases.